Product List
Contact Us
Zhengzhou YiFan Machinery Co.,Ltd.
Address: The middle of zhengyuan road, xingyang eastern development zone, zhengzhou, PRC
Tel: +86-371-64966831
Fax: +86-371-64628872
E-mail: yifanec@yfmac.com
Yahoo: yifancrusher@yahoo.cn

News Details
Crawler mobile crushing station boost mining industry
09-18-2014
As the name suggests,crawler mobile crushing station is tracked chassis with mobile crushing equipment,crawler mobile crushing plant widely used in the treatment and processing of gold,chemicals,building materials,utilities and other large spaces flow of materials,especially for use in mining Bian,faced harsh various traffic conditions, complex and diverse topographical features,mobile crushing station can be completely overcome.Mobile,flexible and convenient features to make it in the working environment under various conditions are able to ensure the completion of the job.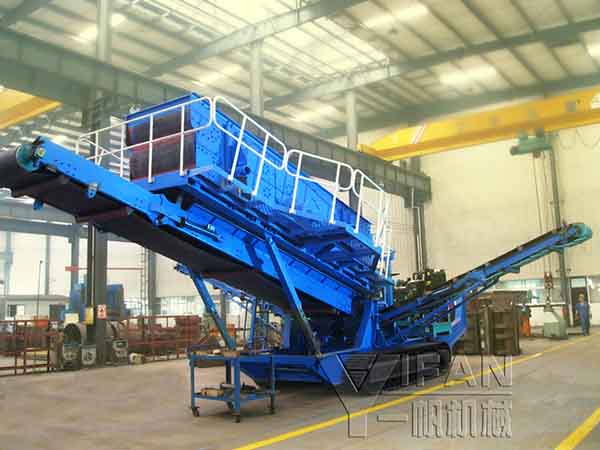 Crawler mobile crushing station includes tracked mobile jaw crushing plant,the specific configuration counterattack crawler mobile crushing plant,cone caterpillar crawler mobile crushing station and screening stations and other series,crushing station can be flexibly configured according to the different needs of different customers,can be combined into coarse crushing,fine crushing and screening system levels,can also be combined into a rough broken,broken,crushing three-stage crushing and screening system,while the crushing and screening levels to optimize the portfolio,but also according to The actual need for separate use,flexible configuration.We will most rational allocation of production to meet customer needs based on ideal conditions for the use of customers.
The mining industry is the backbone of economic development has always been,and has an important impact on China's economic development,crawler mobile crushing plant on the development of the mining industry has a positive role in promoting the crushing station is simple to operate,can directly reach the scene work,eliminating the need for installation work, saving transport costs and time-consuming work to improve operational efficiency.Tracked mobile crusher station is set by the material,crushing, integrated transmission unit and other equipment,material handling equipment after crushing equipment crushing operation to deal with, and then work with other auxiliary equipment to complete production.