Product List
Contact Us
Zhengzhou YiFan Machinery Co.,Ltd.
Address: The middle of zhengyuan road, xingyang eastern development zone, zhengzhou, PRC
Tel: +86-371-64966831
Fax: +86-371-64628872
E-mail: yifanec@yfmac.com
Yahoo: yifancrusher@yahoo.cn

Products
SS/Series Sand Collecting System
Currently available artificial sand production line, most wet production process, matter what type of sand washing machine, its biggest drawback is fine sand (0.16mm less particles) serious loss, or even the loss of 20% above, which not only yield losses, but also seriously affect sand gradation, resulting in unreasonable gradation, fineness modulus of coarse, greatly reducing product quality sand. Excessive sand emissions, but also cause environmental pollution. For the solution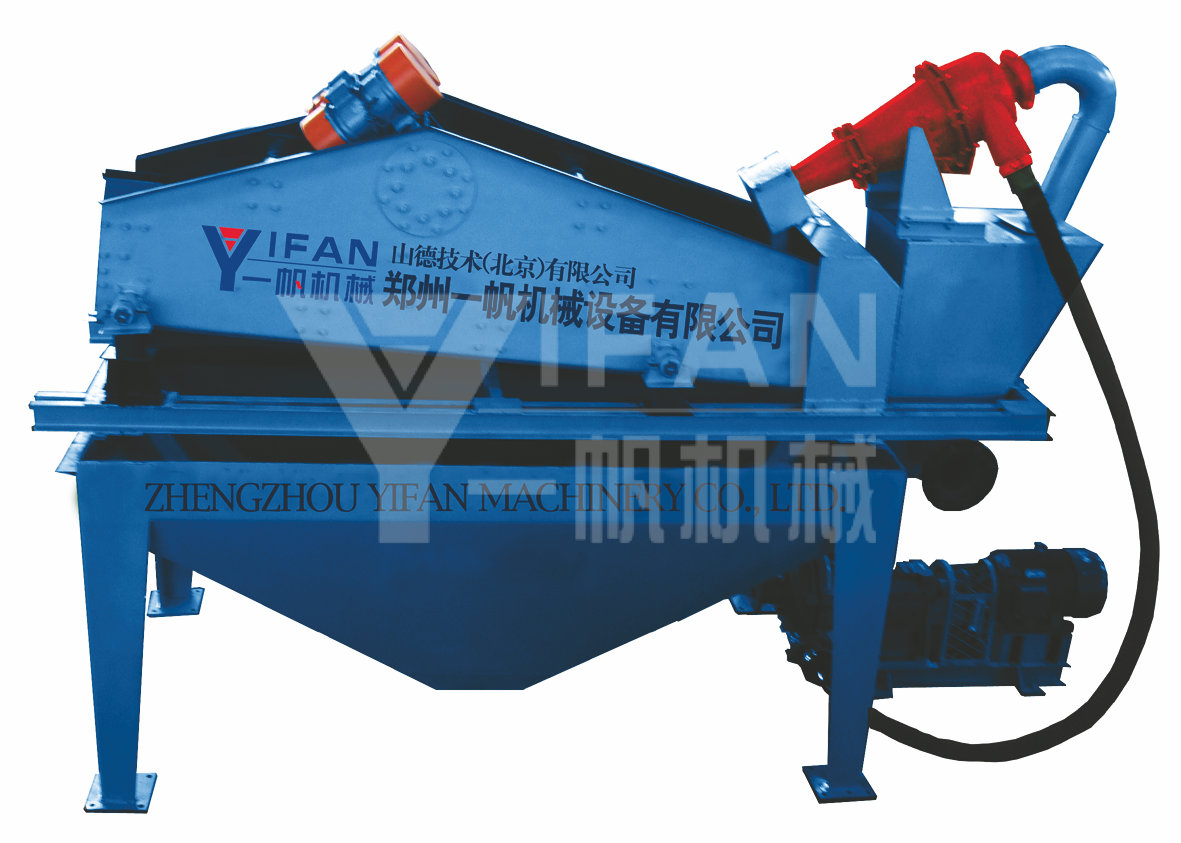 Decision these problems, I developed a SS series sand recycling system, which is the company absorbing foreign advanced technology, combined with China's actual situation and design with the world's advanced level of fines recovery system, widely used in hydropower gravel aggregate processing systems, glass raw materials processing systems, artificial sand production line, coal preparation plant recovery of coarse slime and environmental engineering (mud purification, etc.), etc., can effectively solve the problem of fine sand recovery.

Sand collecting system works:
1, fine sand recovery system structure: the motor, slurry pumps, cyclone, ZKR linear vibrating screen, a cleaning tank, back bins and other components.
2, fine sand recovery system working process: sand-water mixture is fed to the cyclone, centrifugal classification concentrated grit sand by mouth to vibrating screen, vibrating sieve through dehydration, effective separation of fine sand and water, a small amount of sand, mud hopper by returning back to the cleaning tank, cleaning the bath surface is too high, through the discharge port. linear shaker recyclables weight concentration of 70% -85%. Adjust the fineness modulus by changing the pump speed, changing mortar concentration, adjusting the overflow of water, sand replacement nozzle to achieve. Thus completing the washing, dehydration and classification three functions.
Features and parameters

Sand collecting system features:
1, the traditional artificial sand wet processing technology, artificial sand wash mud, dehydration spiral sand washing machine, artificial sand (especially sand) the loss of almost no control. Recovery of the sand used, can effectively reduce the loss of the amount of sand to be controlled at 5 ~ 10% of the. A good solution to the artificial aggregate processing system has finished high sand fineness modulus, low dust content problems.
2, the use of polyurethane sieve shaker, polyurethane mesh sieve longer life than other types, and difficult to plugging holes.
3, polyurethane lined cyclone, improve the overall life of the device, slurry concentration can be successfully completed, the work fluid clarification.
4, the maximum recoverable sand recovery system 85% of the total emissions of fine particulate material, with other devices unparalleled technical and economic advantages.
5, the fine is fully recovered, reducing the workload of sedimentation tanks, reducing the sedimentation tank clean-up costs;
6, fine sand recovery system reduces the fine material natural stacking time, direct transport, supply market.
7, according to different user requirements, design appropriate solutions.
Sand collecting system technical parameters:
Model




Pump




Cyclone

Size (mm)




Dewatering

belt




Capacity

(m3 / h)




Weight (kg)

Power (kW)




Size




Model

Area (m2)




Power (kW)

SS-06-250
7.5
2"
250
0.6×1.5
0.9
2×0.75
10-40
3700
SS-08-300
15
3"
300
0.8×2.25
1.8
2×1.5
40-80
4200
SS-10-350
18.5
4"
350
1.0×2.25
2.25
2×1.5
70-120
4600
SS-12-550
22
6"
550
1.2×3.0
3.6
2×2.2
100-200
7100
SS-12-650
30
6"
650
1.2×3.0
3.6
2×2.2
120-260
7500
SS-14-750
37
6"
750
1.4×3.0
4.2
2×3
180-343
8310
SS-14-750(Ⅱ)
45
6"
750
1.4×3.75
5.25
2×5.5
230-420
8950
SS-16-950
55
8"
950
1.6×3.75
5.25
2×5.5
250-500
14300
SS-16-2×650
55
10"
2×650
1.6×3.75
6.00
2×5.5
300-500
16700
SS-18-2×750
75
10"
2×750
1.8×3.75
6.75
2×7.5
350-600
19680