Product List
Contact Us
Zhengzhou YiFan Machinery Co.,Ltd.
Address: The middle of zhengyuan road, xingyang eastern development zone, zhengzhou, PRC
Tel: +86-371-64966831
Fax: +86-371-64628872
E-mail: yifanec@yfmac.com
Yahoo: yifancrusher@yahoo.cn

Products
Mobile crawler crushing station
Product introduction
Moible crawler crushing station is a kind of high efficiency crushing equipment, driven by their own way, the technology is advanced, the function is all ready. In any terrain conditions, this equipment can reach the place of any position. This reduces the material processing operations, and convenient all the coordination of auxiliary machinery. Through the wireless remote control, can easily take crusher on the trailer, and deliver it to the site of the homework.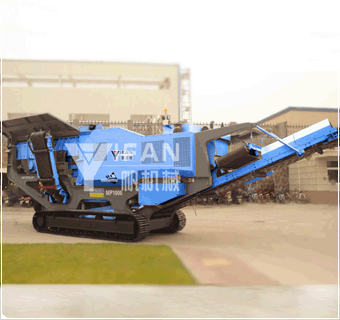 Because no time, so the equipment can be work immediately to the job sites. Greatly expanded the field of coarse crushing, fine grinding operation concept. The design concept of crawler mobile crushing station aim is standing in customer's position, eliminate the broken out of the place, the environment, bring ? multifarious basic configuration
Mobile crawler crushing station USES:
Caterpillar screening crushing equipment with multi-functional features.
1. Widely used in mining, coal mining, waste and the recycling of construction waste, conditions, urban infrastructure, roads or construction sites and other site operations.
2. Handle topsoil and a variety of other materials; Separation of viscosity of concrete aggregate; Construction and demolition industry. After crushing screening; Quarrying industry.
The characteristics and structure of
Mobile crawler crushing station features:
1. Caterpillar screening crushing equipment products with light weight, small volume and is especially suitable for narrow site work;
2. The transportation is convenient, crawler walking, do not damage the road surface, equipped with multi-function apparels, adaptation range is extensive;
3. Set machine, electricity, liquid integration of typical multi-function engineering machinery products. Its compact structure, the machine dimension has a medium different models;
4. The whole machine adopt all-wheel drive, which can realize spin, standard configuration, quick change device, with perfect security protection function, especially suitable for space narrow, complex area.
5. Caterpillar sieving equipment adopts double screen, the main structure, and is equipped with a fine mesh filter channel, do not need to support, free standing.
6. The fuel saving rate is as high as 25%, caterpillar feed type sieving method not only conforms to the need of environmental protection and can save the cost.
7. Included power group - optimal design.
8. Can climb assignments, meet mine, hydropower station, coal mining and other engineering requirements.
Mobile crawler crushing station environmental protection concept:
Crawler mobile crushing station of muffler noise, the noise of the best absorption system, the equipment is compact and flexible, more can satisfy the urban construction waste broken between homework and effective dust removal system, suitable for diesel engine's noise pollution status, release system can remotely control hydraulic barriers to eliminate mobile broken crawler crushing station, greatly improve the efficiency of crushing screening device.
MP jaw - J series crawler mobile crushing station
MP-J6
MP-J7
MP-J8
MP-J10
Inlet size(mm×mm)
600×1060
760×1000
850×1150
1070×1400
The largest feed particle size(mm)
500
630
720
950
Row ore mouth adjusting range(mm)
60-175
70-200
70-220
100-250
processing(t/h)
The biggest280
The
biggest400
The
biggest500
The
biggest800
Power plant
The engine
Cummins Tier3
Cat C9
Cat C12
Cat C15
power(kw)
164
242
317
390
hopper
Bucket capacity(m3)
6
7
8
10
Bar feeder
Drive way
hydraulic
hydraulic
hydraulic
hydraulic
The main belt conveyor
The belt width(mm)
1000
1000
1200
1400
Crawler walking device
Drive way
hydraulic
hydraulic
hydraulic
hydraulic
Permanent magnet dump iron remover
In addition to the iron
optional
optional
optional
optional
The dimensions and weight
Working state overall dimensions
The length of the(mm)
12600
14800
16000
16500
The width of the(mm)
4060
4100
4200
4300
highly(mm)
4160
4400
4400
6000
Transport state overall dimensions
The length of the(mm)
12600
14800
16000
16500
The width of the(mm)
2760
2850
3200
3500
highly(mm)
3460
3900
3800
3900
The weight of the(t)
39
48
65
115