Product List
Contact Us
Zhengzhou YiFan Machinery Co.,Ltd.
Address: The middle of zhengyuan road, xingyang eastern development zone, zhengzhou, PRC
Tel: +86-371-64966831
Fax: +86-371-64628872
E-mail: yifanec@yfmac.com
Yahoo: yifancrusher@yahoo.cn

Products
Mobile screening station
Products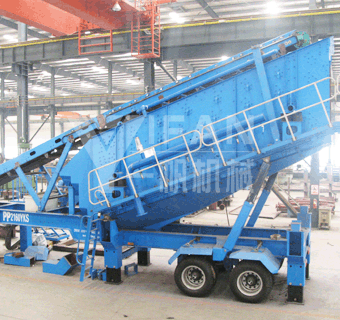 Yifan Machinery new design PP series of mobile crushing and screening station can provide high operating speed and operating flexibility. Mobile crushing and screening station has a high production capacity and adaptability with Yifan Machinery primary jaw crusher mobile joint operations can also be used alone as three kinds of aggregate particle size classification screening machine to use, you can used wheel loaders, excavators or crusher conveyor to feed. Depending on the amount of sizing material was sieved 55 ~ 105t / h.
Mobile crushing and screening station applications: screening for a variety of quarry and construction demolition waste, mining operations and so on.
Mobile crushing and screening station characteristics and advantages:
1, equipped with a high-performance screening box;
2, automated screening exercise and adjust to maximize screening efficiency;
3, strict management of all operating unit, improve product life and reliability;
4, features low noise and low emissions.
Technical Parameters
Category
The new name
PP1548YK2S
PP1548YK3S
PP1860YK3S
PP2160YK2S
PP2160YK3S
PP2160YK4S
Transport dimensions
Model
Long
14000
14740
13260
15230
16000
12680
Wide
3300
2780
3180
3720
3100
4360
High
4180
4500
4550
4500
4680
4560
Weight
22.9
23.9
22.8
28.6
33.2
24.8
Axle load
14.1
10.3
22.5
16.9
23.9
17.8
Kingpins / load
50/9.8
50/13.6
50/2.3
50/11.7
50/9.3
50/7.0
Shaker
Model
2YK1548
3YK1548
3YK1860
2YK2160
3YK2160
4YK2160
Feeding belt conveyor
Model
B800X12Y
B800X12Y
无
B800X12Y
B1000X12.7Y
B800X12Y
Sieve belt
Model
B650X7.5Y
B650X7.5Y
B800X8.2
B1000X8.2Y
B1000X8.2Y
无
Frame axes
Number of axes
Biaxial
Biaxial
Biaxial
Biaxial
Biaxial
Biaxial