Product List
Contact Us
Zhengzhou YiFan Machinery Co.,Ltd.
Address: The middle of zhengyuan road, xingyang eastern development zone, zhengzhou, PRC
Tel: +86-371-64966831
Fax: +86-371-64628872
E-mail: yifanec@yfmac.com
Yahoo: yifancrusher@yahoo.cn

Products
Straight-line Vibrating Screen
ZK Series Linear Vibrating Screens absorbs German advanced technology with unique eccentric structure. It is widely used in plastics,abrasives,chemicals,pharmaceuticals,building materials, food,carbon,fertilizer,refractory materials,light industry,mining, coal,metallurgy and other industries,as well as selection and classification of powdery,granular materials.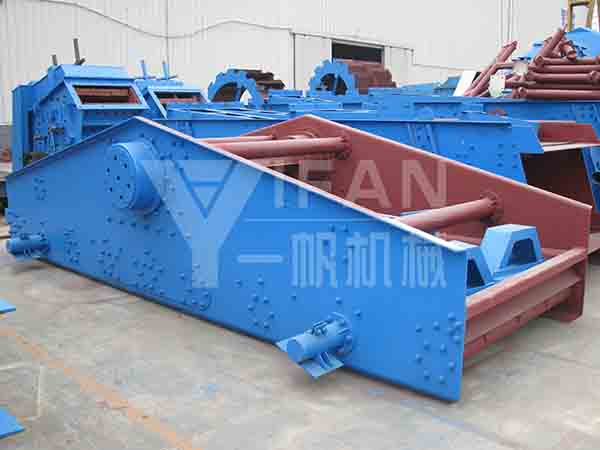 Features
ZK Series Linear Vibrating Screens Features and Advantages:
1.using block eccentric as excitation force,strong exciting force
2.using high strength bolts without welding
3.simple structure, convenient maintenance
4.the use of tire couplings, flexible connection and smooth operation
5.high screening efficiency, large capacity, long life
6.through years of production practice,it proves that Straight-line Vibrating Screen is capable of handling a large amount of materials,reasonable technical parameters,structural strength,high stiffness,serialization,universal,high degree of standardization,smooth and reliable operation,low noise,easy maintenance and overhaul and a series of advantages.
Technical data
Model
Screen Surface
Max Feeding Size(mm)
Capacity(t/h)
Motor Power(Kw)
Weight(Kg)
Deck Size(m2)
Mesh(mm)
Structural
ZK1022
2.25
0.25-50
Punched Polyurethane Stripped and Seanmed
<250
4.5-90
3×2
2215
ZK1230
3.6
0.25-50
Punched Polyurethane Stripped and Seanmed
<250
7.2-144
4×2
2693
ZK1237
4.5
0.25-50
Punched Polyurethane Stripped and Seanmed
<250
9.0-180
5.5×2
3118
ZK1437
5.25
0.25-50
Punched Polyurethane Stripped and Seanmed
<250
12.0-250
5.5×2
3210
ZK1445
6.3
0.25-50
Punched Polyurethane Stripped and Seanmed
<250
12.6-252
7.5×2
4040
ZK1637
6
0.25-50
Punched Polyurethane Stripped and Seanmed
<250
12.0-240
5.5×2
3552
ZK1645
7.32
0.25-50
Punched Polyurethane Stripped and Seanmed
<250
14.4-280
7.5×2
4572
ZK1837
6.75
0.25-50
Punched Polyurethane Stripped and Seanmed
<250
14.4-270
11×2
4995
ZK1845
8.1
0.25-50
Punched Polyurethane Stripped and Seanmed
<250
16.2-324
11×2
5436
ZK1852
9.45
0.25-50
Punched Polyurethane Stripped and Seanmed
<250
18.9-378
11×2
5900
ZK2045
9
0.25-50
Punched Polyurethane Stripped and Seanmed
<250
16.2-324
11×2
5969
ZK2052
10.5
0.25-50
Punched Polyurethane Stripped and Seanmed
<250
21.0-420
11×2
6472
ZK2060
12
0.25-50
Punched Polyurethane Stripped and Seanmed
<250
24.0-480
15×2
7558
ZK2445
10.8
0.25-50
Punched Polyurethane Stripped and Seanmed
<250
21.6-432
15×2
7439
ZK2452
12.6
0.25-50
Punched Polyurethane Stripped and Seanmed
<250
25.2-504
15×2
8216
ZK2460
14.4
0.25-50
Punched Polyurethane Stripped and Seanmed
<250
28.8-576
15×2
9235
ZK3045
13.5
0.25-50
Punched Polyurethane Stripped and Seanmed
<250
27.0-540
15×2
9859
ZK3052
15.75
0.25-50
Punched Polyurethane Stripped and Seanmed
<250
31.4-628
22×2
9958
ZK3060
18
0.25-50
Punched Polyurethane Stripped and Seanmed
<250
17.5-525
22×2
11062
ZK3645
16.2
0.25-50
Punched Polyurethane Stripped and Seanmed
<250
37.8-756
22×2
12289
ZK3652
18.9
0.25-50
Punched Polyurethane Stripped and Seanmed
<250
43.2-846
22×2
13409
ZK3660
21.6
0.25-50
Punched Polyurethane Stripped and Seanmed
<250
43.2-846
22×2
14390
ZK3675
27
0.25-50
Punched Polyurethane Stripped and Seanmed
<250
54.0-1080
30×2
17100
2ZK1022
2.25
0.25-50
Punched Polyurethane Stripped and Seanmed
<250
4.5-90
4×2
3018
2ZK1230
3.6
0.25-50
Punched Polyurethane Stripped and Seanmed
<250
7.2-144
5.5×2
3740
2ZK1237
4.5
0.25-50
Punched Polyurethane Stripped and Seanmed
<250
9.0-180
7.5×2
4460
2ZK1437
5.25
0.25-50
Punched Polyurethane Stripped and Seanmed
<250
12.0-250
7.5×2
5042
2ZK1445
6.3
0.25-50
Punched Polyurethane Stripped and Seanmed
<250
12.6-252
15×2
6883
2ZK1637
6
0.25-50
Punched Polyurethane Stripped and Seanmed
<250
12.0-240
15×2
6919
2ZK1645
7.32
0.25-50
Punched Polyurethane Stripped and Seanmed
<250
14.4-280
15×2
8654
2ZK1837
6.75
0.25-50
Punched Polyurethane Stripped and Seanmed
<250
14.4-270
15×2
7951
2ZK1845
8.1
0.25-50
Punched Polyurethane Stripped and Seanmed
<250
16.2-324
15×2
8116
2ZK1852
9.45
0.25-50
Punched Polyurethane Stripped and Seanmed
<250
18.9-378
15×2
9061
2ZK2045
9
0.25-50
Punched Polyurethane Stripped and Seanmed
<250
16.2-324
15×2
9133
2ZK2052
10.5
0.25-50
Punched Polyurethane Stripped and Seanmed
<250
21.0-420
22×2
10128
2ZK2060
12
0.25-50
Punched Polyurethane Stripped and Seanmed
<250
24.0-480
22×2
10875
2ZK2445
10.8
0.25-50
Punched Polyurethane Stripped and Seanmed
<250
21.6-432
22×2
11008
2ZK2452
12.6
0.25-50
Punched Polyurethane Stripped and Seanmed
<250
25.2-504
22×2
12757
2ZK2460
14.4
0.25-50
Punched Polyurethane Stripped and Seanmed
<250
28.8-576
22×2
13560
2ZK3045
13.5
0.25-50
Punched Polyurethane Stripped and Seanmed
<250
27.0-540
30×2
15472
2ZK3052
15.75
0.25-50
Punched Polyurethane Stripped and Seanmed
<250
31.4-628
37×2
16942
2ZK3060
18
0.25-50
Punched Polyurethane Stripped and Seanmed
<250
17.5-525
37×2
18253
2ZK3645
16.2
0.25-50
Punched Polyurethane Stripped and Seanmed
<250
37.8-756
45×2
21042
2ZK3652
18.9
0.25-50
Punched Polyurethane Stripped and Seanmed
<250
43.2-846
45×2
24040
2ZK3660
21.6
0.25-50
Punched Polyurethane Stripped and Seanmed
<250
43.2-846
45×2
25400
下一篇:没有了