Product List
Contact Us
Zhengzhou YiFan Machinery Co.,Ltd.
Address: The middle of zhengyuan road, xingyang eastern development zone, zhengzhou, PRC
Tel: +86-371-64966831
Fax: +86-371-64628872
E-mail: yifanec@yfmac.com
Yahoo: yifancrusher@yahoo.cn

Products
Tracked Hydraulic Cone Crusher station
Products
Hydraulic cone crusher crawler mobile crushing station is the latest developed a mechanical Yifan, comparable to the world's advanced level of technology crusher, the device appears broken machinery in China to international standards has taken an important step forward. R & D and manufacturing standards of tracked mobile crushing station determines the level of "Made in China" in the level of broken machinery, with Yifan machinery of the "Made in China" element injected into the crawler mobile crushing station, the representative of China's crusher technological advances in the industry and product development capabilities, and more importantly, it marks the Chinese mining machinery manufacturing capabilities are one step closer to world levels, while laying a solid technical foundation for Chinese mining economy take off.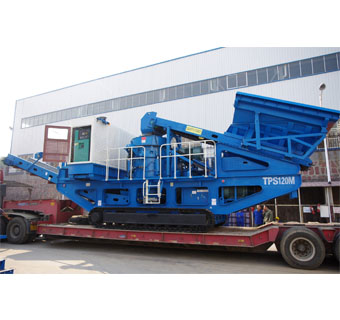 Tracked Hydraulic Cone Crusher crushing plant uses:
Yifan Machinery successfully developed hydraulic drive track-type mobile crushing station, to meet the market demand, the concept of scientific equipment to guide our clients to reduce costs, lean production and improve efficiency. Subject to a large number of building materials, construction waste, mine, mining, sand and cement companies for the warm welcome.
Technical Features
MP-C Series tracked mobile cone crusher station
MP-C120
MP-C180
MP-C250
Cone Crusher Model
SMH120
SMH180
SMH250
The maximum feed size(mm)
160
180
260
Adjustment range of discharge opening(mm)
9-32
9-32
9-51
Handling capacity(t/h)
Maximum150
Maximum200
Maximum350
Power plant
Engine
Cummins or Cat
Cummins or Cat
Cummins or Cat
Power(kw)
261
261
400
Hopper
Hopper Capacity(m3)
4
5
6
Crawler device
Drive mode
Hydraulic pressure
Hydraulic pressure
Hydraulic pressure
Dimensions and weight
Working condition Dimensions
Length(mm)
13767
13850
14530
Width(mm)
3621
3650
4150
Height(mm)
4497
4550
4720
Transportation status Dimensions
Length(mm)
14273
14320
14900
Width(mm)
3543
3570
3640
Height(mm)
4024
4050
4130
Weight(t)
37
39.5
49