Product List
Contact Us
Zhengzhou YiFan Machinery Co.,Ltd.
Address: The middle of zhengyuan road, xingyang eastern development zone, zhengzhou, PRC
Tel: +86-371-64966831
Fax: +86-371-64628872
E-mail: yifanec@yfmac.com
Yahoo: yifancrusher@yahoo.cn

Products
Hydraulic Cone Crusher
Hydraulic Cone Crusher Application:
SMH series hydraulic cone crusher adopting world advanced technology is designed and made through to be the crusher of world advanced level. it is widely used in metallurgical, architectural, water and electricity, traffic, chemical, architectural material industries. It is suitable for crushing varies of mid hard and above mid hard ores and rocks.
Hydraulic Cone Crusher Feature and Advantage:
(1) Reasonable structure advanced crushing principle and technical specification, reliable work and low cost.
(2) Strong crushing ability; High efficient productivity; High capacity.
(3) Reliable Hydraulic system providing safe and effective overload protection.
(4) Two type of crushing chamber are for wide range of product size requirement.
(5) High automation adopting hydraulic adjustment and hydraulic clean cavity setting.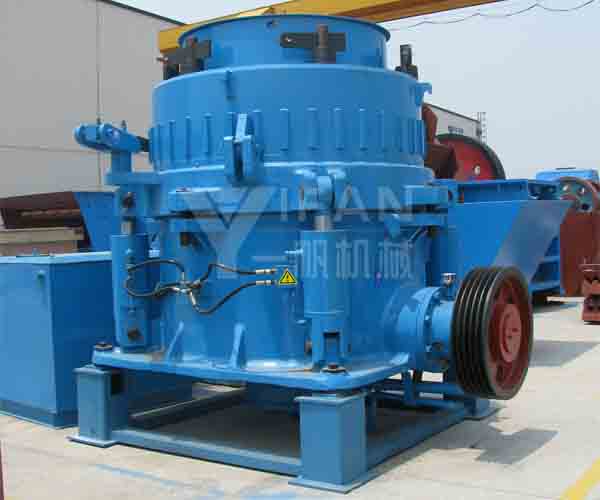 Technical Data:
Model
Max Feeding
Min Discharge Setting (mm)
Motor Power (kw)

Capacity (tons/h) —open circuit, closed discharge (mm)

9
13
16
19
22
26
32
38
51
63
SMH120C
160
22-32
75-90
40-70
60-85
80-100
90-110
100-120
110-130
140-160
SMH120M
130
13-26
SMH120F
50
9-19
SMH180C
180
22-32
132-160
60-90
80~
110
100~
135
120~
155
140~
185
160~
195
180~
215
SMH180M
140
13-32
SMH180F
60
9-22
SMH250C
240
26-51
160-220
70~
90
90~
110
115~
140
130~
160
150~
190
200~
250
250~
300
300~
350
350~
420
SMH250M
150
16-38
SMH250F
80
9-22
SMH450C
330
32-63
315-375
100~
130
130~
180
170~
205
210~
255
250~
295
300~
340
350~
390
400~
480
500~
600
SMH450M
240
22-51
SMH450F
90
13-32