Product List
Contact Us
Zhengzhou YiFan Machinery Co.,Ltd.
Address: The middle of zhengyuan road, xingyang eastern development zone, zhengzhou, PRC
Tel: +86-371-64966831
Fax: +86-371-64628872
E-mail: yifanec@yfmac.com
Yahoo: yifancrusher@yahoo.cn

Products
PE/PEX Series Jaw Crusher
E.PEX series jaw crusher for large complex tilting, widely used in mining, metallurgy, construction, highway, railway, water conservancy and chemical industry and many other industries, processing large size, the compressive strength less than 320Mpa various ores and rock crushing or medium crushing operations. PE Series for rough broken, PEX series is used in thin broken.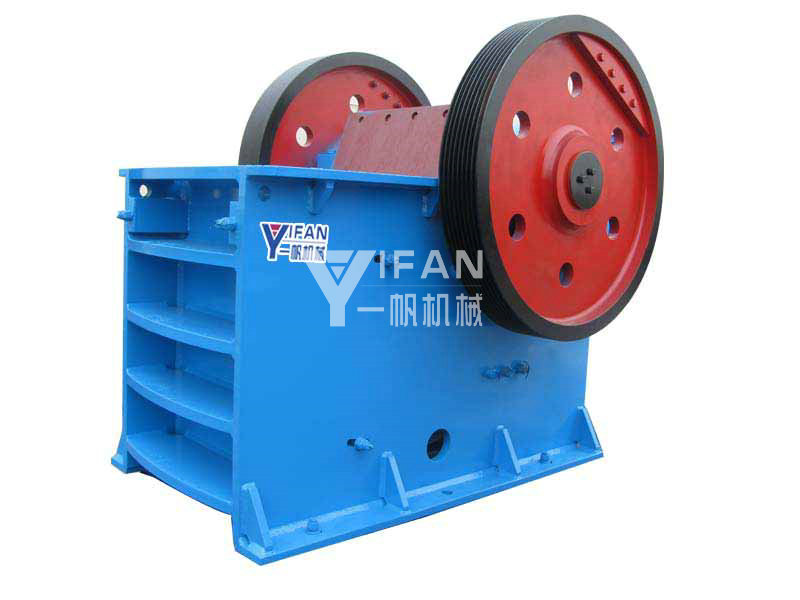 PE, PEX series jaw crusher structure consists of:
Broken jaw structure main frame, eccentric shaft, big pulley, flywheel, moving jaw, side guard, elbow board, elbow board seat, adjusting screw gap, the reset spring, fixed jaw plate and movable jaw plate and other components, which also play a role as insurance bracket.

PE, PEX series jaw crusher works:
PE, PEX series jaw crusher is a motor driven by the motor pulley, belt and slot wheel driven by the eccentric shaft to move the jaw for reciprocating movement at a predetermined trajectory, which will enter the fixed jaw plate, movable jaw plate and side shield crushing cavity composed of materials to be broken, and through the lower part of the finished material discharge opening discharge. This series of jaw crusher for the song moving extrusion type, motor-driven belt and pulley, through the eccentric shaft to move the jaw up and down movement, when the movable jaw rises between toggle plate and moving jaw angle becomes larger, thus promoting the movable jaw plate close to the fixed jaw plate, while the material is squeezed, rubbing, grinding, such as multiple broken; when the movable jaw down, the toggle plate and moving jaw angle between, moving jaw plate lever action of the spring leaves fixed jaw plate, then the crushed material from the crushing chamber under the discharge port, with the mobile jaw crusher motor for continuous rotation of the crushing and nesting periodicity, to achieve mass production.
Product features and technical advantages:
1A simple structure, convenient maintenance; stable performance, low operating costs; crushing ratio.
2 crushing chamber depth and no dead zone, increased capacity and output feed.
3 The crushing ratio, uniform particle size.
4 Gasket nesting population adjustment device, reliable and convenient adjustment range, increase the flexibility of the device.
5 lubrication system safe and reliable, easy to replace parts, maintenance workload is small.
6 simple structure, reliable operation, low operating costs.
7 saving equipment: stand-alone energy-saving 15% to 30%, saving more than double the system.
8 nesting population adjustment range, to meet the requirements of different users.
9 Low noise, less dust.
Note:
The machine should be checked before use various parts of fasteners, especially lubrication and ministries bolts, each lubrication will
Shall maintain sufficient oil, loose bolts to be tightened, and then clean up the crushing cavity residue, and then boot
Production, in normal operation note the material uniform, not once under the foot, for a long time does not add, too much can cause mechanical
Clogged. Movable jaw plate, static jaw, both guards, roof of wearing parts, pay attention to maintenance.
PE, PEX series jaw crusher technical parameters:



Model Specification






Inlet Size

(mm)






Max feed

grain

(mm)






Adjustment range

of discharge opening

(mm)






Processing capacity

(m3 / h)






Motor (kw)




Weight (t)

PE-400×600
400×600
340
400-100
10-35
30
6.5
PE-500×750
500×750
425
50-100
25-60
55
10.6
PE-600×900
600×900
500
65-180
30-85
55-75
15.5
PE-750×1060
750×1060
630
80-180
72-150
90-110
28
PE-800×1060
800×1060
680
100-200
85-143
90-110
30
PE-870×1060
870×1060
750
170-270
145-235
90-110
30.5
PE-900×1200
900×1200
780
95-255
100-240
110-132
49
PE-1000×1200
1000×1200
850
195-280
190-275
110-132
51
PE-1200×1500
1200×1500
1020
150-300
250-500
160
100.9
PEX-250×1000
250×1000
210
25-60
10-32
30-37
6.5
PEX-250×1200
250×1200
210
25-60
13-38
37
7.7
PEX-300×1300
300×1300
250
20-90
10-65
75
11
PE, PEX series jaw crusher Dimensions (mm):

| | | | | | | | | | |
| --- | --- | --- | --- | --- | --- | --- | --- | --- | --- |
| Model Specification | A | B | C | D | E | F | G | H | I |
| PE-400×600 | 1732 | 1110 | 636 | 1105 | 962 | 1565 | 955 | 255 | 990 |
| PE-500×750 | 1916 | 1256 | 820 | 1270 | 1200 | 1890 | 1370 | 435 | 1185 |
| PE-600×900 | 1840 | 1400 | 960 | 1540 | 1515 | 2305 | 1590 | 390 | 1505 |
| PE-750×1060 | 2472 | 1820 | 1060 | 2010 | 1660 | 2450 | 1850 | 530 | 1980 |
| PE-800×1060 | 2556 | 1780 | 1060 | 1970 | 1660 | 2610 | 2010 | 585 | 1840 |
| PE-870×1060 | 2556 | 1780 | 1060 | 1970 | 1660 | 2660 | 2060 | 585 | 1840 |
| PE-900×1200 | 3182 | 1976 | 1200 | 2125 | 1800 | 3335 | 2155 | 830 | 2530 |
| PE-1000×1200 | 3182 | 1976 | 1200 | 2125 | 1800 | 3435 | 2255 | 830 | 2530 |
| PE-1200×1500 | 3732 | 1780 | 1620 | 2700 | 2285 | 4200 | 2940 | 970 | 3480 |
| PEX-250×1000 | 1992 | 1500 | 1010 | 930 | 900 | 1530 | 905 | 330 | 850 |
| PEX-250×1200 | 2192 | 1700 | 1220 | 930 | 1000 | 1900 | 965 | 365 | 850 |
| PEX-300×1300 | 2320 | 1840 | 1320 | 1110 | 1228 | 1750 | 1170 | 430 | 930 |