Product List
Contact Us
Zhengzhou YiFan Machinery Co.,Ltd.
Address: The middle of zhengyuan road, xingyang eastern development zone, zhengzhou, PRC
Tel: +86-371-64966831
Fax: +86-371-64628872
E-mail: yifanec@yfmac.com
Yahoo: yifancrusher@yahoo.cn

Products
Mobile jaw crusher station
Products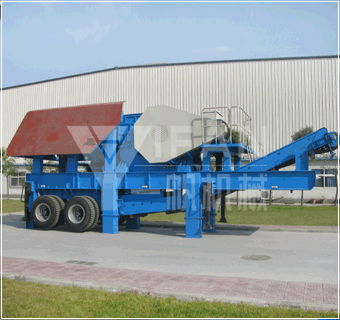 Jaw mobile crusher station is equipped with a high performance mobile jaw crusher, feeder and automotive and high- intensity shaker. Short length , light weight ; Strong mobility adaptable, flexible combination of lower transport costs of materials - both crushing , crushing or sand operations, its design philosophy is to fully adapt to the mobile crusher , eliminating fragmentation venue , environment, barriers to customer base configuration crushing operations , and truly provide customers simple, efficient , low-cost rock crushing equipment, mainly used in metallurgy, chemical industry , building materials , utilities and other materials often need to relocate processing operations , especially for highways, railway , hydropower engineering job mobility stone , different users can be processed according to the type of raw materials , finished product size and material requirements using a variety of configurations . Mobile jaw crusher station greatly expands the concept field of coarse crushing operation .
Mobile jaw crusher station Features:
1, PP series high performance crusher
2 , vehicle feeder, vibrating screen, belt conveyor
3 , pulling the steering shaft to facilitate road transport
4 , vehicle installation support , on-site installation fast and convenient
5 , supporting the installation of the motor and control box integration
Structures
Mobile jaw crusher station structure consisting of :
Jaw mobile crusher station all parts onboard , including: a solid frame, jaw crusher , feeder , vibrating screen , conveyor belts , motors and control boxes.
Mobile jaw crusher station works:
Materials transported by feeder evenly into the crusher, jaw crusher initially crushed , constituted by circular vibrating screen closed system, crushing recyclable materials , finished material from the conveyor output , continuous crushing operations . Mobile jaw crusher according to the actual production of circular vibrating screen needs to be removed to achieve the initial crushing of materials directly , convenience and other crushing equipment for use and flexible.
Mobile jaw crusher station purposes and scope of use :
1 is widely used in mining , coal, refuse and recycling of construction waste , earthwork , urban infrastructure, roads or construction sites and other venues operations.
2 topsoil handling and a variety of other materials ; separated viscous coagulation aggregate ; construction and demolition industries ; screening after crushing ; quarrying industries.
3 . River pebbles , rocks ( limestone , granite , basalt , diabase , andesite , etc. ) , ore tailings , artificial sand stone chips .
Technical Parameters

PP series of mobile jaw crusher station
Category
Model
The new name
PP4060PE
PP5075PE
PP6090PE
PP75106PE
PP87106PE
PP90120PE
Transport dimensions
Long
8700
9326
10700
12500
12460
14450
Wide
2490
2490
2780
2900
3120
3000
High
3895
4125
3840
4450
4440
4800
Weight
17.4
27
35.4
60
60
82
Axle load
8.1
16
25
40.5
41.3
52
Kingpins / load
50/9.3
50/11
50/10.4
90/19.5
90/18.7
90/30
Jaw Crusher
Model
PE400X600
PE500X7500
PE600X900
PE750X1060
PE870X1060
PE900X1200
Feed size
400*600
500*750
600*900
750*1060
870*1060
900*1200
The maximum feed size
340
425
500
630
750
780
Adjustment range of discharge port
40-100
50-100
65-180
80-180
170-270
95-225
Production m3 / h
10-35
25-60
30-80
72-150
145-235
170-250
Feeders
Model
GZT0724
GZT0724
GZT0932Y
ZSW490X110
ZSW490X110
ZSW600X1300
Bunker volume
3.2
3.2
7.6
10
10
10
Bin width
2200
2200
3150
3000
3000
3000
Main belt
Model
B600X5.8Y
B650X5.8Y
B1000X7.0Y
B1000X7.2Y
B1000X7.2Y
B1200X8.3Y
Side of the belt (optional)
Model
无
B400X2.7Y
B500X2.7Y
B500X2.7Y
B500X2.7Y
B650X3.5Y
Separators (optional)
Model
RCYD-6.5
RCYD-6.5
RCYD-10
RCYD-10
RCYD-10
RCYD-12
Frame axes
Number of axes
Uniaxial
Biaxial
Biaxial
Triaxial
Triaxial
Axis