Product List
Contact Us
Zhengzhou YiFan Machinery Co.,Ltd.
Address: The middle of zhengyuan road, xingyang eastern development zone, zhengzhou, PRC
Tel: +86-371-64966831
Fax: +86-371-64628872
E-mail: yifanec@yfmac.com
Yahoo: yifancrusher@yahoo.cn

Products
SDY/Series Cone Crusher
SDY series cone crusher is broken after absorbing advanced technology developed in the United States with leading domestic level cone crusher is widely used in metallurgy, construction, utilities, transportation, chemical industry, building materials industry, suitable for crushing hard, medium hardness above all kinds of ores and rocks.
SDY series cone crusher works:
The equipment at work by the rotation of the motor through a pulley or coupling, cone crusher and cone crusher cone shaft portion of the force moving the eccentric sleeve around one week under a fixed point for Swing movement. Thereby crushing cone crushing wall sometimes close and sometimes leave fixedly mounted in the adjustment sleeve rolling acetabular wall surface, so that the ore in the crushing cavity constantly under attack, pressing and bending role to achieve ore crushing. Motor through bevel gear drive eccentric rotation, so broken cone for Swing movement. Sometimes close and sometimes crushing cone away from the fixed cone, complete crushing and nesting. Support sleeve and the frame body connection by spring compression, when the crusher falling piece of metal and other objects can not be broken, the spring being deformed by compression, exhaust foreign body, to achieve insurance, to prevent damage to the machine.
Cone crusher in the crushing cavity can not be broken or foreign material through the machine is overloaded for some reason, cone crusher spring safety system to achieve insurance, cone crusher discharge opening increases. Foreign matter from exhaust cone crusher crushing chamber, such as foreign body stuck in the discharge zone can use clean chamber system, so that the drain mine continues to increase, so that expelled cone crusher crushing chamber. Cone crusher in the spring under the action of the port of discharge is automatically reset, cone crusher machine back to work. Crushing cavity surface covered with wear-resistant high manganese steel liner. Pai mine mouth size with hydraulic or manual adjustment.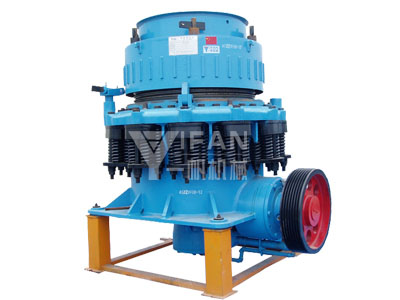 SDY series cone crusher main features:
A high performance: through cavity optimization design and the use of reasonable speed and stroke combined, making the models in the same dynamic cone diameter in the case acting up. Therefore, with the same type of spring cone crusher, compared with higher performance and production capacity.
2, the product size distribution: the use of laminated crushing principle, to make the product significantly increased the proportion of the cube, flake stone needles reduced grain more evenly.
3, good stability: When there is iron and other non-broken material into the machine, the over iron protection device will automatically be released, and then automatically reset. Over iron protection with a fixed return point of discharge opening, miscellaneous iron through the crushing chamber, it can quickly restore the original discharge opening.
4, clear cavity convenient: If the spring cone crusher downtime under load, hydraulic clean cavity system can quickly clean up the crushing chamber, greatly reducing downtime.
5, high reliability: the use of large diameter shaft, heavy-duty main frame and separate oil lubrication system, automatic control system to ensure that the equipment, durable, reliable operation.
6, easy maintenance, easy to operate: All of the components are able to from the top or side entry, so that fixed cone and fixed cone assembly can be easily dismantled. Bronze plain bearings in high shock and vibration environments crushing load to maintain excellent performance and more economical than the rolling bearing, maintenance more convenient.
7, the production cost is low: because of production capacity, high reliability, easy maintenance, greatly reducing the cost of production.
8, widely used: CS Series spring cone crusher efficiency is characterized by the crusher to play the greatest performance to suit all kinds of crushing process: from special coarse crushing to fine crushing, crushing from fixed to mobile crushing station.
9, split Lubrication: multi-point control of independent oil lubrication system to ensure that the models bearing lubrication dual protection, as well as the machine can achieve automatic safety protection.
SDY cone crusher technical parameters:

Model
Type of Cavity
Min Discharge Setting(mm)
Max Feeding Size(mm)
Motor Power(kw)
Open circuit,Closed side(mm),Capacity(t/h)
3
5
6
10
13
16
19
25
31
38
52
64
SDY600B
Fine
6
62
30
16
18
23
27
32
41
46
55
Coarse
9
80
30
18
23
27
32
46
55
68
Ertra coarse
13
93
30
23
27
36
50
64
73
SDY900B
Fine
9
87
75
46
59
73
82
Coarse
13
150
75
59
73
91
118
137
164
Ertra coarse
25
155
75
118
137
164
SDY1200B
Fine
9
107
132
64
91
109
127
155
168
Medium
13
150
132
100
118
137
164
182
200
Coarse
19
172
132
141
182
200
246
310
Ertra coarse
25
220
132
191
210
255
319
SDY1300B
Fine
13
120
160
109
127
146
164
182
Medium
16
180
160
132
159
200
228
255
Coarse
19
205
160
173
218
250
296
350
Ertra coarse
25
220
160
237
273
305
360
SDY1700B
Fine
16
180
220
182
205
259
296
328
Medium
22
205
220
291
337
382
419
Coarse
25
230
220
300
355
419
455
637
Ertra coarse
38
315
220
432
478
683
SDY600D
Fine
3
30
30
9
16
18
27
36
Coarse
5
45
30
16
22
33
41
50
SDY900D
Fine
3
35
75
27
41
55
68
91
Medium
3
51
75
27
41
55
68
91
100
Coarse
6
65
75
59
73
96
114
127
SDY1200D
Fine
5
46
132
50
77
86
123
132
Medium
8
61
132
91
132
146
Coarse
13
75
132
141
164
182
Ertra coarse
16
102
132
146
168
191
218
SDY1300D
Fine
3
55
160
36
59
82
105
137
164
Medium
6
76
160
82
105
137
164
Coarse
8
90
160
109
159
182
200
228
Ertra coarse
16
115
160
209
237
SDY1700D
Fine
5
60
220
91
137
164
209
Medium
6
76
220
137
164
209
255
282
Coarse
10
115
220
191
255
282
309
337
Ertra coarse
13
115
220
255
282
309
337
下一篇:没有了