Product List
Contact Us
Zhengzhou YiFan Machinery Co.,Ltd.
Address: The middle of zhengyuan road, xingyang eastern development zone, zhengzhou, PRC
Tel: +86-371-64966831
Fax: +86-371-64628872
E-mail: yifanec@yfmac.com
Yahoo: yifancrusher@yahoo.cn

Products
Mobile vertical impact crushing station
Products
Vertical impact mobile crushing station is equipped with a high-performance Yifan Machinery impact crusher ( sand making machine ) . , And vehicle-mounted feeder and high- intensity shaker. Short length , light weight ; Strong mobility adaptable, flexible combination of lower transport costs of materials - both crushing , crushing or sand operations , can bring you unexpected results.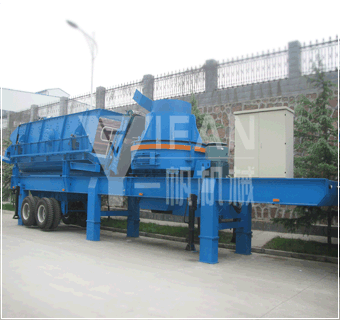 Mobile vertical impact crushing station features:
1 , a high-performance crusher
2 , vehicle feeder, vibrating screen, belt conveyor
3 , pulling the steering shaft to facilitate road transport
4 , vehicle installation support , on-site installation fast and convenient
5 , supporting the installation of the motor and control box integration
Mobile vertical impact crushing station structure:
The impact of mobile crushing station all parts onboard , including: a solid frame, impact crusher , feeder , vibrating screen , conveyor belts , motors and control boxes.
Moible vertical impact crushing plant works:
Material through the feeder preselection , by the impact crusher sand production , form a closed system through the shaker, to achieve the cycle of broken material can effectively savings on sand processing chain , finished material from the conveyor output , continuous crushing operations .
Technical Parameters
Vertical impact mobile crushing station purposes and scope of use :
1 is widely used in mining , coal, refuse and recycling of construction waste , earthwork , urban infrastructure, roads or construction sites and other venues operations.
2 topsoil handling and a variety of other materials ; separated viscous coagulation aggregate ; construction and demolition industries ; screening after crushing ; quarrying industries.
3 . River pebbles , rocks ( limestone , granite , basalt , diabase , andesite , etc. ) , ore tailings, stone chips .
Category
Model
The new name
PP5000VS
PP5000VS33S
PP6000VS
PP6000VS42S
PP6000VS43S
PP7000VS
PP7000VS51S
PP7000VS52S
Transport dimensions
Long
9800
11280
11500
15470
15050
11000
15420
14980
Wide
2490
2780
2780
2780
2780
2780
2780
3100
High
4200
2500
2850
4180
4380
3820
3250
4170
Weight
21.6
28
20
32.6
32.9
23.2
32.7
38.7
Axle load
14.6
19.2
14
22.3
23.8
15
21.1
27.5
Kingpins / load
50/7.0
50/8.8
50/6.0
50/10.3
50/9.1
50./8.2
50/11.5
90/11.2
Vertical impact crusher
Model
VS5000BD
VS5000BD
VS5000BD
VS6000BD
VS6000BD
VS7000BD
VS7000BD
VS7000BD
Maximum feed
65(80)
65(80)
65(80)
70(100)
70(100)
70(100)
70(100)
70(100)
Throughput
80-150
80-150
80-150
120-250
120-250
180-350
180-350
180-350
Shaker
Model
No
3YK1545
No
2YK1860
3YK1860
No
YK2160
2YK2160
Belt
Model
B650X6.5Y
B800X7.2Y
B800X6.7Y
B1000X8.6Y
B800X7.4Y
B1000X6.4Y
B1000X8.6Y
B1000X8.2Y
Frame axes
Model
Uniaxial
Biaxial
Biaxial
Biaxial
Biaxial
Biaxial
Biaxial
Triaxial
下一篇:没有了