Product List
Contact Us
Zhengzhou YiFan Machinery Co.,Ltd.
Address: The middle of zhengyuan road, xingyang eastern development zone, zhengzhou, PRC
Tel: +86-371-64966831
Fax: +86-371-64628872
E-mail: yifanec@yfmac.com
Yahoo: yifancrusher@yahoo.cn

Products
Mobile hydraulic driven crawler screening station
Products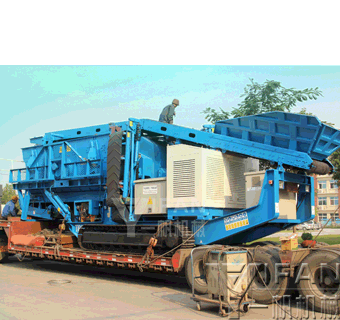 Mobile hydraulic driven crawler screening station features:
Different models of hydraulic drive track through the different models and screening station hydraulic drive crawler mobile crushing plant joint , can be composed of a strong pipeline crushing operations , perform a variety of processing operations demand . Its advanced design , excellent performance, high efficiency, easy maintenance , operating cost , stable and reliable , with respect to the various types of stationary crushing and screening station , the hydraulic drive track-type mobile crushing and screening station can be moved like a small and medium crushing plant , its efficiency and operating costs are the same level or a higher level than the fixed crushing and screening station .
This after assembly of hydraulic drive track -type mobile crushing and screening station is a transport , crushing and screening integration , and can walk on their own crushing equipment , quick and easy to walk up it , because of the need to reduce the need to bring the mobile crushing plant unnecessary losses , reducing the cost of investment , thus becoming the new " king of the crusher ." It marks the successful development and operation of the crusher production has reached a new level of technology , and attracted the close attention at home and abroad , especially in opencast coal mine and processing of construction waste .
Hydraulic driven crawler crushing and screening station performance advantages :
1 noise control system , the choice of the best noise absorption system , and equipment is compact and flexible, to better meet the inter- city construction waste crushing and screening operations ;
2 . Effective dust removal system , suitable for diesel engine noise emission conditions , remote controlled hydraulic release system to remove obstacles to the mobile screening station , the pre-screening devices greatly improve crushing efficiency .
3 crawler hydraulic drive launched mobile screening station is currently crushing and screening machinery products development presents digital, parallelization, perfectly embodies the integration and knowledge of trends.
Mobile hydraulic driven crawler screening station structural advantages:
1, equipped with a high-performance screening box;
2, automated screening exercise and adjust to maximize screening efficiency;
3, strict management of all operating unit, improve product life and reliability;
4, features low noise and low emissions.
MP-S series crawler mobile screening station
MP-S 152
MP-S 153
MP-S 181
Screen box specifications(mm×mm)
1500×4500
1500×6100
1800×4800
Layers
2or3
2or3
2or3
Power plant
Engine
Cummins or CAT
Cummins or CAT
Cummins or CAT
power(kw)
110
138
110
Hopper
Hopper Capacity(m3)
10
10
10
Crawler device
Drive mode
Hydraulic pressure
Hydraulic pressure
Hydraulic pressure
Dimensions and weight
Working condition Dimensions
Length(mm)
16457
19800
16539
Width(mm)
14282
17800
14327
Height(mm)
4199
7300
4238
运输状态外形尺寸
Length(mm)
14840
19500
15130
Width(mm)
2861
3300
3245
Height(mm)
3461
3500
3574
Weight(t)
26
39
29