Product List
Contact Us
Zhengzhou YiFan Machinery Co.,Ltd.
Address: The middle of zhengyuan road, xingyang eastern development zone, zhengzhou, PRC
Tel: +86-371-64966831
Fax: +86-371-64628872
E-mail: yifanec@yfmac.com
Yahoo: yifancrusher@yahoo.cn

News Details
The mobile feeder plant-----Yifan design,produce and export
09-02-2014
Three months ago,we receive the order from an Australia customer,when we get it,it is just a very very simple outside view and the size is not correct,The customer need us to design and produce the mobile feeder plant of the B1200.We know the belt width is very wide 1200,and length is 18 meters,When in the transportation conditionthe belt conveyor can be folded with hydraulic,so the length is suitable to transport on the road.The three side of the hopper can also be folded by the hydraulic cyliner.Although we have made many many mobile crusher,screen plant,but We never do this long mobile belt conveyor.It is a challenge for yifan design institute,we know if the design is not correct ,the finished plant will have many problems.After on month design,all of the design institute member is very serious about this plant,much communication with customer,the design is finished,also all of the spare parts drawing is finished.The first challenge is conquered successfully.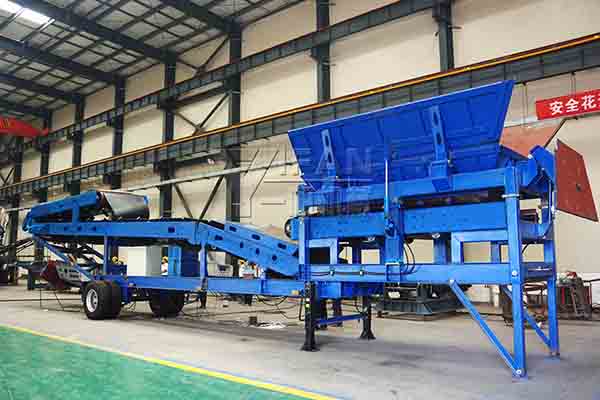 Then the produce department begin to prepare the material spare parts,buy the standard parts from our certificated supplier,workers welding,assembling,test run of the belt conveyor,control quality department supervise all of the stage to guarantee the quality.About one month later,the mobile feeder begin to test run,we are all very hopeful and nervous.First time ,fold is fail,because in the head of the belt conveyor,it is the heavy motor and reducer which the customer appoint,the length is too long,the side of the belt conveyor is changing when fold it by the strong power.So we strength the side of the 18 meter blet conveyor,for the second time,also this position is bad again.
All of yifan design institute have a meeting,have a drastic discussion,they get a solution to solve this problem.The four-bar links structure is changed,the old position reinforce.This time test run,it is successful.Although the process is hard,but yifan member do not give up ,work hard to solve the problem,not the mobile feeder plant is waiting for delivery and will sent out in front of the Mid-Autumn Festival.
Let's largest customer's needs are met,the customer is responsible for,so that customer satisfaction is our principle of Yifan service.This is the yifan design and produce independently successfully.