Product List
Contact Us
Zhengzhou YiFan Machinery Co.,Ltd.
Address: The middle of zhengyuan road, xingyang eastern development zone, zhengzhou, PRC
Tel: +86-371-64966831
Fax: +86-371-64628872
E-mail: yifanec@yfmac.com
Yahoo: yifancrusher@yahoo.cn

Products
Mobile Cone Crusher
Yifan machinery mobile cone crusher station is mainly used in the field of crushing operations in aggregates production operations, depending on the stone and finished applications, mobile cone crusher station to replace the crusher to produce higher hardness and more fine-grained sand and gravel products. Yifan cone crusher machine configuration can be adjusted to the actual needs of different type of crushing chamber, expanding cone break in pieces the use of mobile crushing station areas and scope of use.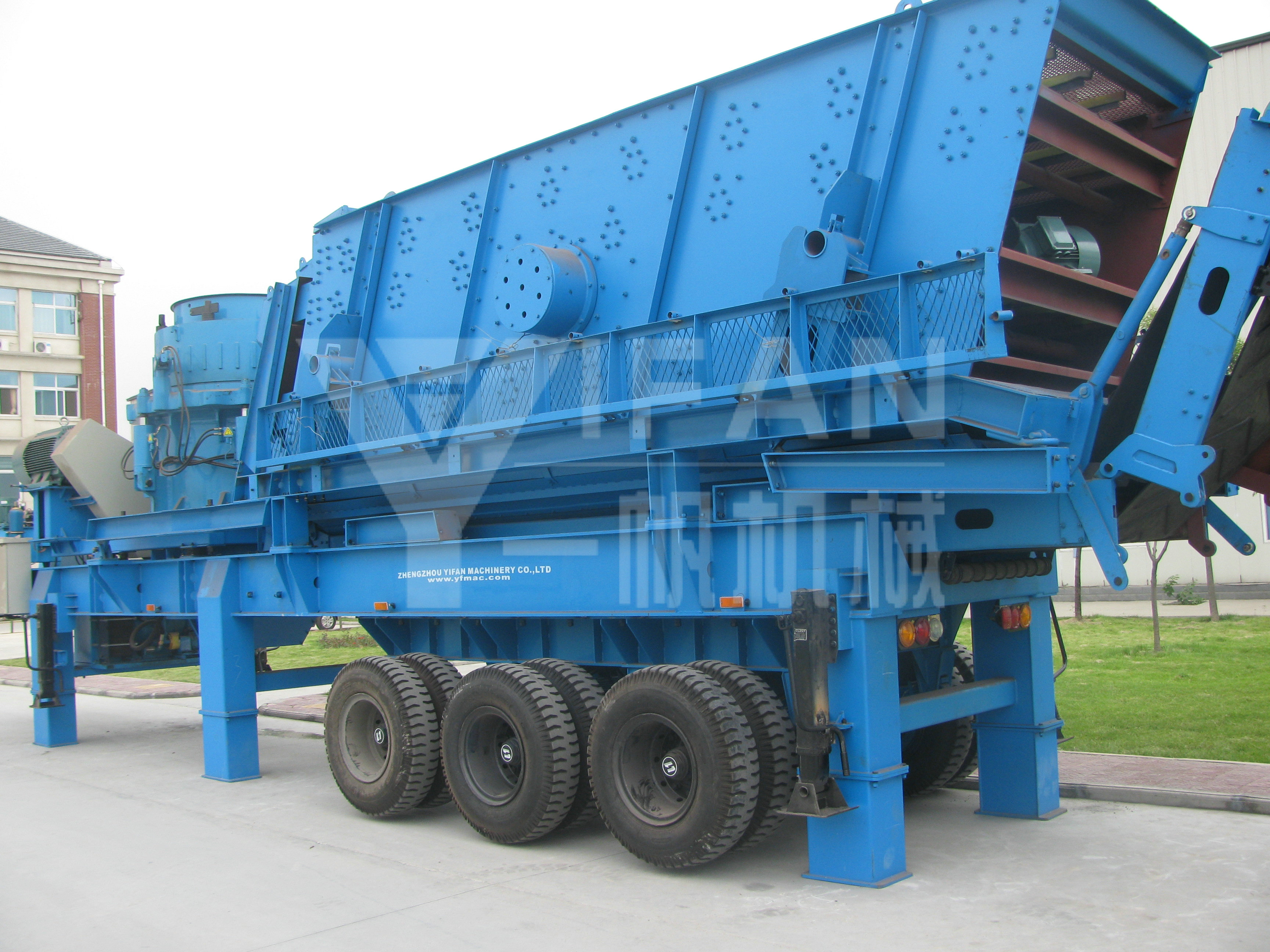 Mobile Cone Crusher station Features:
1. good mobility
2. compact, easy to use
3. save cost, reduce costs
4. the higher the applicability
5. stable performance, easy maintenance
6.flexible configuration
Mobile Cone Crushing plant composition:
Cone mobile crushing station includes all components: solid frame, hydraulic cone crusher, feeder, vibrating screen, conveyor belts, motors and control boxes.
Mobile Cone crushing plant advantages:
Cone mobile crushing cone crusher is mounted Yifan Machinery independent research SMH hydraulic cone crusher with hydraulic closed side of the adjusting device can produce 10 ~ 45mm aggregates. Cone crusher hydraulic closed side of the adjusting means to quickly and easily adjust the setting of the crusher. Adjustment is carried out via the control box, making this system ideal for applications requiring periodic adjustment parameters of the discharge port of the occasion
Mobile Cone crushing plant works:
The uniformity of the material transported to the feeder cone crusher, cone crusher preliminary broken, constituted by a closed circuit system circular vibrating screen, crushing the material in the cycle, the finished material from the conveyor output, continuous crushing operation. Cone mobile crushing station can be removed according to the actual production needs circular vibrating screen, to achieve the material directly preliminary crushing, crushing equipment for use with other easy to operate and flexible.
Cone mobile crusher purpose and scope
Applications
Mobile Cone crushing station Scope:
1. is widely used in mining, coal, refuse and recycling of construction waste, earthwork, urban infrastructure, roads or construction sites and other site operations.
2. processing of topsoil and a variety of other materials; separating viscous concrete aggregate; construction and demolition industries; crushing screening; quarrying industries.
3. river pebbles, rocks (limestone, granite, basalt, diabase, andesite, etc.), ore tailings, the artificial sand stone chips.
Mobile Cone

crushing

station technical

parameters:




PP Series

mobile

cone

crusher station

(

Table I

)


Category
Model
New name
PP120SMH23S
PP120SMH33S
PP120SMH33S
PP120SMH34S
PP180SMH
PP180SMH42S
PP180SMH44S
Transport dimensions
Long
11840
13300
13920
13920
10000
13720
14800
Width
2780
2780
2780
2780
2780
2780
2865
High
4360
4350
4360
4460
4160
4350
4550
Weight
31.8
31
33
34.4
22.4
37.3
42.9
Axle load
21.8
22
22.6
23.8
14.3
26
29
Kingpin / axle load
50/10.0
50/9.0
90/10.1
90/10.6
50/8.1
50/11.5
90/14
Cone Crusher
Model
SMH120
SMH120
SMH120
SMH120
SMH180
SMH180
SMH180
Maximum feed
50-160
50-160
50-160
50-160
60-180
60-180
60-180
Adjustment range of discharge opening
9-32
9-32
9-32
9-32
9-32
9-32
9-32
Shaker
Model
3YK1235
3YK1545
3YK1548
4YK1548
No
2YK1860
4YK1860
Belt conveyor
Model
NO
B800X7.2Y
B800X7.4Y
B800X7.4Y
B1000X7.2Y
B1000X8.2Y
B1000X8.2Y
Frame axes
Model
Biaxial
Biaxial
Biaxial
Biaxial
Biaxial
Biaxial
Triaxial
Table II
Category
Model
New name
PP180SMH53S
PP250SMH
PP250SMH44S
PP250SMH52S
PP250SMH53S
PP250SMH54S
Transport dimensions
Long
14700
11200
15500
15250
15690
15690
Width
3040
2780
2865
3000
3290
3300
High
4220
4180
4300
4500
4500
4510
Weight
45.1
36.1
55.6
55.8
53
54.4
Axle load
30.8
25.8
25.6
35.5
34.5
35.8
Kingpin / axle load
90/14.3
50/10.3
90/20
90/20.3
90/18.5
90/18.6
Cone Crusher
Model
SMH180
SMH250
SMH250
SMH250
SMH250
SMH250
Maximum feed
60-180
80-240
80-240
80-240
80-240
80-240
Adjustment range of discharge opening
9-32
9-51
9-51
9-51
9-51
9-51
Shaker
Model
3YK2160
NO
4YK1860
2YK2160
3YK2160
4YK2160
Belt conveyor
Model
B1000X6.5Y
B1000X7.2Y
B1000X8.2Y
B1000X8.2Y
B1000X8.2Y
B1000X8.2Y
Frame axes
Model

Triaxial

Biaxial

Triaxial

Triaxial

Triaxial

Triaxial
上一篇:没有了