Product List
Contact Us
Zhengzhou YiFan Machinery Co.,Ltd.
Address: The middle of zhengyuan road, xingyang eastern development zone, zhengzhou, PRC
Tel: +86-371-64966831
Fax: +86-371-64628872
E-mail: yifanec@yfmac.com
Yahoo: yifancrusher@yahoo.cn

News Details
Crusher crushing process classification and description
07-01-2014
In the course of the impact crusher plant, crushing and screening which is a joint operation. Before crushing, the crushing of the material needs generally contain some smaller particles were sieved and then crushing it can make more efficient crushing. After crushing the material, due to different principles of the crusher, there is often a part of the material is relatively large size, the particle size corresponding to not meet the requirements of the large sieved particulate material is also required to be repeatedly broken. Therefore portable crusher to achieve better performance results, and work closely with the screening system is very important. Usually composed of various crushers and screening systems are mainly open and closed modes. Crushing and screening examination by a closed system controlled by the size of the finished product more uniform particle size, and the open system after crushing materials often contain material particles larger particle size.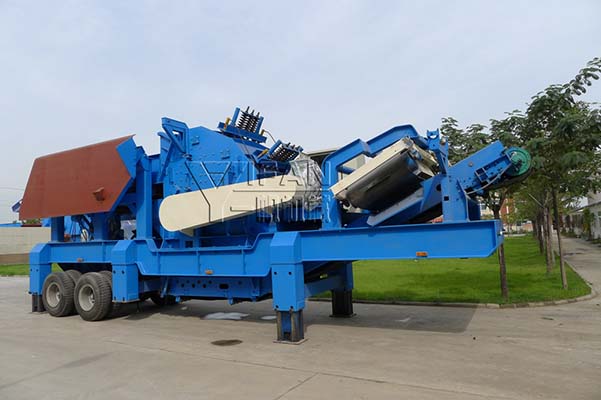 Two-stage crushing process mainly two kinds of open and closed. For imported materials 200-400 mm particle size, particle size products in a small underground concentrator 12-30mm is very practical. In some cases, the broken first section of the workload is relatively small, the time may not be pre-crushed before screening, using two closed circuit crushing process directly. Two broken open using mainly common in certain re-election to the factory or the need to post the material directly to the mill crushing small concentrator.
Process is also divided into three sections open and closed two kinds. Ability to adapt to closed circuit clay content in the ore is not high, so in a variety of industries and mines as the size of the grinding preparation process is widely used. Three sections of open crushing process plant equipment configuration is relatively simple, can save some appropriate infrastructure costs. However, due to its production of finished material is relatively thick, so often used to deal with the situation by limiting the site under low moisture content of clay minerals, or when the mill ore feed size requirements lax process.